OK, I need to diversify my posting a little but whatever, here are some more awesome hip-hop related items.
I mentioned a few posts ago that I am obsessed with scrapers, Kia knows, its likely an obsession that I will never indulge (very likely) although if I do it might be much later in life so I would be like a weird old guy with the dumbed out scraper. What is a scraper? Thanks for asking dad. A scraper is a large American car, usually from the 70s, 80s or 90s although I have seen some recent models scraped out. Cars from the 50s and 60s are usually not turned into scrapers as much as straight out low riders. So, you get a big ol' American car, you put some candy colored paint on it, and you slap some 20-24 inch rims on it (bigger has been done, but its tough). Imagine Escalade rims on an '89 Impala, heck why imagine?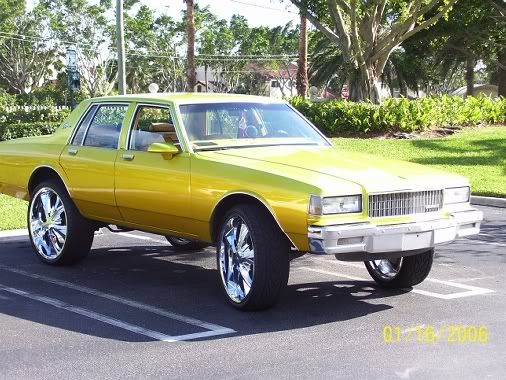 OK, so now you have a visual. This has been a fairly common automotive trend in the bay area with the hyphy youngsters and makes me very jealous - seriously. Further illustration.
There are scraper bikes too apparently, but come on, that's just ridiculous.
On an entirely unrelated note, I am trying to get one of my coworkers to sport some 2pac shoes. They look like this:
So if you work with me and are dying to see Dan Chow sport these feel free to donate a few dollars to the fund and peer pressure him into rocking what very well might be the baddest sneakers of all time.
Word.